Indexing and optimizing your code and content for a good search engine ranking.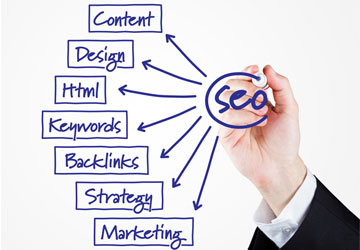 SEO optimization (Search Engine Optimization) consists of all those activities designed to increase the volume of traffic a web site receives from search engines. These activities include both optimization of the source code of the page, both of the contents. Optimization is part of a more complex tasks, such as search engine marketing (Search Engine Marketing, SEM).
Because for your business it is important to be among the first places on the search engines?
Because today 80% of users that search never goes beyond the second page, stopping at the first 30 results displayed.
Why 95% of users consider the sites placed in the first two pages of the motors as the leader in their market sector.
The task of search engine optimization includes various technical operations that are performed on the code and content of the pages of the web site, as well as on overall hypertext structure (including interaction technologies).
In large sites, or particularly complex, SEO remains in close contact with the work, team needs depending on the specific elements of professionalism that can fall in a single person.
Optimizing a site is functional to its positioning in the pages of motor response, which in turn is the visibility of products/services sold. Be visible on the NET does increase the potential of your company's business.
Once optimized, the site will be subject to periodic testing to monitor the placement. This allows you to capture "importance" to your website, to be better indexed, and then found by more users interested in your business.